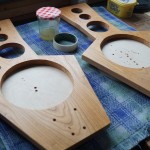 I now regret the optimistic conclusion to my last post! – the sanding and finishing process is neither quick nor easy. Each baffle has required a good hour and a half of patient hand sanding, working down to 150G to achieve a good surface prior to oiling. The top of one of the baffles had quite a bit of shallow pitting in the grain (see close-up in previous post) which needed a lot of elbow grease with the 80G paper to rectify. Both still have some minor imperfections but these will be covered by the tweeter baffles.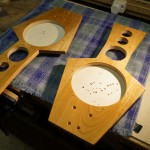 The photos show the sanded baffles before and after the first coat of Osmo Polyx – I am using the 3032 satin matt I had left over from a parquet floor redo. Both baffles have some interesting U-shaped curved grain which is very pleasing – see close-up.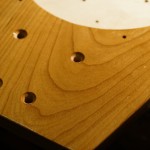 The only drawback with using hardwax oil is the drying time; the first application with brush takes a good 24 hrs or more to dry before the other side can be treated. More patience required… after smoothing off the first coat I am planning to apply a further two coats, although these will be rubbed in/off with some lint-free rag.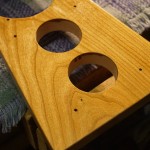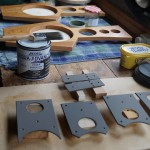 In the meantime I have sealed and sanded all the hardboard components with MDF sealer, primed these with the Bedec primer, and put a further coat of primer on the front flap of the woofer boxes – I should be able to start with the black paint soon.