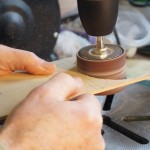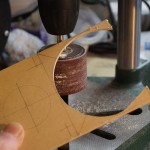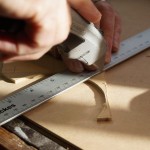 Today I made the tweeter baffles. These are fiddly because of the lower curve that frames the upper midrange unit, and I was a little apprehensive about how to obtain a neat job.
I first cut out the baffles with a Stanley knife and a metal ruler; the 3mm hardboard needs 8 – 10 passes with increasingly firm pressure to cut very cleanly. I then clamped all four baffles together and rough cut the curves with the jigsaw. I then gently took the hardboard back to the curve line using my trusty little Screwfix drum sander mounted in the drill press. This has been an excellent buy and has rescued several awkward moments.  In the end the job was far easier than expected and they all came out neatly.
All that remained was to cut the bevels at the lower edge for the front facing baffles; I adopted Bill Schneider's idea of giving the rear baffles a different look. The final task was to lightly bevel the top and sides with the plane. Really pleased with how they came out.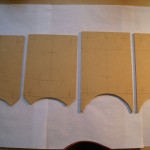 I'm keen to get on to the hardwood baffles, so before finishing for the day spent some time marking out my 7.5″ cherry board (which I had bought months earlier at the same time as the drive units) for the two panels; this will involve cutting and glueing two short 3″ wide boards to either side of the lower ends.