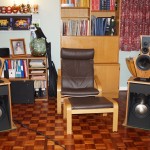 OK, so now you will learn why, from the listening point of view, I have time on my hands. A couple of days ago I lugged 36kg of NAD amp in from the garage, connected up the miniDSP and the CD player, and transferred SL's test files to a memory stick in readiness for a full system test. My new Marantz CD player conveniently has a USB input on the front panel which saved the hassle of burning them to disc.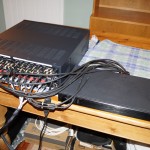 Before turn-on there was the small matter of affixing 20 banana plugs to the speaker cables. I had bought 24 Nakamichi plugs off e-bay some weeks earlier – nice plugs but affordable. The screwdriver slipped off one and plunged into my index finger – brisk haemorrhage resulted but no severed nerves or tendons…
A few days earlier I had experimented with the miniDSP  remote learning facility, hoping I could use the Marantz remote. Didn't recognise any key presses, so I retrieved a spare NAD remote, and this programmed with no difficulty, allowing volume control and configuration selection. Turned on DSP, CD player, then amp, ran the alternating pink noise test and cautiously turned up the volume…
Obvious clear difference between speakers, and quickly apparent that the L woofers were doing nothing. I knew the speaker cables were fine as I had performed full polarity checks the day before – but I checked again. Fine. So one of my RCA leads was faulty? (Though I had tested all these too.) Lead swaps did not correct the problem however, and I was puzzled.
So… Was it the amp? Unplugged everything except for one input and a lower midrange driver, and went along the channels one by one using the 100 Hz test signal. Channels 1,2 and 3 dead as a dodo. I then realised  the amp was in protection mode, and had switched off the power amp module supplying 1 – 3. Damn! I had no idea when this fault occurred, having barely used the thing since purchasing it many months earlier.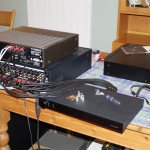 After I settled down I retrieved my old NAD 2155 amp from the garage, transferred the upper woofer channels to it and tried again. Had to take off four banana plugs (note the blood-stained screwdriver). Pink noise test passed, so (at gentle volume) I christened speakers with a little Bowie in honour of our recently departed hero. Following this with snippets of a Yes favourite track was enough to prove that:
Everything I have built works as it should
The sound is very clean and detailed
However, sadly I am going to have to wait before a more thorough evaluation of quality and power. Everything is unplugged and the music room is restored to some order for now. At least it gives me the opportunity to finish this log…