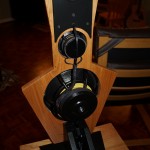 Neglected the log in the last few days, so writing in retrospect (I now have time on my hands… read on to discover the reason). The baffle wiring is complete. Not much to do here; mainly an exercise in managing Techflex and heatshrink, and keeping things neat. I carefully took some photos of the process and later discovered the camera's SD card was still in the desk PC! – so pics of finished article only. I used the gas ring to "set" the end of the Techflex at a stretched diameter (threaded over a 24mm tube) to fit over the connections on the back of the Speakon mount. I remembered to wire the L and R baffles in mirror image which I feel adds a professional touch! I was very glad I had kept the little Speakon bracket detachable; it would have been impossible to fit the six terminals in the "black hole" otherwise.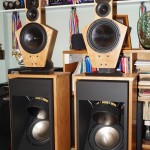 At this point I mounted the baffles on the bridges before taking my first snaps of the finished speakers. I knew I had created the same "design fault" as Bill Schneider described in that I had to take the baffles off the supports to allow the front pivot bolt to drop into its hole! Texted this pic to eldest daughter on her birthday (making it clear these were NOT birthday presents for her – she has already told me she wants them…) She was still gracious enough to reply that they "looked amazing". They ain't bad.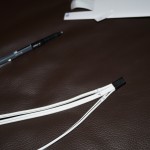 On to the speaker cables. Again this is an exercise in careful measuring, and labelling, to ensure the Speakon plugs are wired correctly. Threading the Techflex over five double wires requires staged pushing on rather like a caterpillar walking. I used heatshrink at the joint where the three baffle wires leave the woofer wires, and at the plug ends. I also found it helpful to use insulating tape to hold the cable ends together whilst wrestling with the Techflex. I'm leaving the amp ends battoned down with a cable tie for now until I know how much play I need to plug them all in.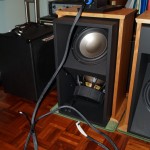 The pic shows the first cable approaching completion with the baffle Speakon wired in. I had not used Speakons before, and the first time I finished screwing the 6 wires onto the plug mount I discovered that I had not only slid the blue back cover upstream on the cable (correct) but also the male insert element as well (definitely incorrect – you cannot remove it without taking all the wires out again!). After this little learning curve the other three plugs went on without a hitch.
EDIT: For my records, the wiring for the 8 way Speakons is:
T+ to 4-
T- to 1-
UM+ to 2-
UM- to 3-
LM+ to 4+
LM- to 2+
Maybe a wire up and test tomorrow?