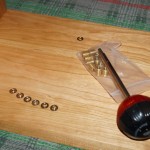 The bridges are done – the final coat of wax-oil was applied in the music room to speed up drying time. I am increasingly trying to find reasons to avoid venturing out to the garage as the temperature is dropping fast; we are forecast the first really cold spell this winter. All that remained was to screw the brass inserts back in to their previously prepared holes in the underside of the tops.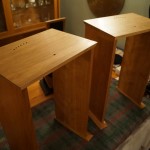 What I should be doing next is returning to the woofer boxes… in the garage… Instead I decided to dispatch the tedious job of making up the phono leads that will run between the MiniDSP and my NAD CI9120 12-channel power amp – in the warmth of the kitchen. Sadly, NAD have discontinued this amp, but I was fortunate in picking one up second hand on E-bay. Ten of the twelve channels are needed for the LX521.4 setup. Decent phono leads go for silly prices in the shops, so some weeks earlier I had ordered from Canford a quantity of Rean heavy-duty plugs and several metres of their good quality HSS screened cable.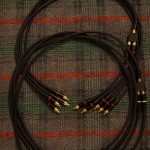 It took me the best part of four hours to solder and assemble the 24 connectors – but they are thankfully now all ready (see photo – note the fourth lead for L and R needs a splitter as upper and lower woofers share MiniDSP output but each have their own power amp channel).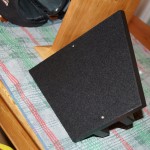 A much quicker (and easier) task was to cut some self-adhesive black felt to stick onto the bases of the baffle supports before giving them a trial fit onto the bridges. With the front M5 bolts in place the rear ones lined up perfectly with the toe-in holes – relief!
My last LX521 job of the day was to order some Techflex sheathing and heatshrink in anticipation of making up the speaker leads. This should be my last on-line order for this project – a cause for celebration in itself as it certainly all adds up…