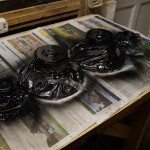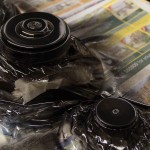 The baffle supports have now been given their final coat of satin black and are finished bar the Speakon mounts.
I was keen to position the midrange units and see how the baffles looked with the supports, but before this, taking another leaf from Bill Schneider's book, I masked up the midrange units and gave the rear metallic surfaces a spray of satin black from a tin of…. I was somewhat nervous of using spray paint, never having used it and not having the proper kit for more substantial surfaces, but I was pleasantly surprised by the finish one coat achieved. The occasional little bubbly imperfection, but more than adequate for the job. Although described as satin, the finish is towards the gloss end. A voice in my head is now questioning whether I should spray the final coat on the woofer boxes…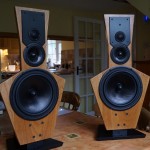 Having given the spray 24 hrs to dry I took everything inside and assembled the baffles. I used a small amount of grease on all mounting screws and bolts this time which abolished the stiffness noted previously. Stuck 'em on the kitchen table for a photo; there is little natural light at present during a particularly dingy December, but they look good. Definite sense of progress!